Biciklistička utrka 2. nagrada Fortice 2003
In July 2003, an invitation from Fortica Bike Team organizers arrived and our team decided that we take a part in this race. The race was located in Šibenik, which is pretty far from our club. As usually, I was the youngest member of the crew that day. When arriving to location, firstly we unpacked baggage in a hostel and then took a rest. Start of the race was next day later in the afternoon. Since we arrived at the seaside, we all wanted to swim in the sea before the race. Thus, we rode our bikes few kilometers to the beach next morning. It was a very relaxing swim and the sun was perfect. However, we were all a little nervous, because the race was being started anytime and my age group even started first. Anyway, we decided that we do not need to take this race very seriously. After coming back to hostel a delicious quick lunch was eaten. I then prepared myself for the race. My bicycle was encountering some problems, but our mechanic was trying to fix it before the start. I tested it on the basketball court and it seemed fine. Anyway, I did not know what to expect before the start. I was afraid that my legs will not endure to the end, because spending all day for driving around the beach and even swimming. But I felt relaxed. Race was set in the suburbia of city Šibenik, consisting of fifteen laps. Course was not really flat, but contained some very small hills. Anyway, I liked this course. After the start, my feeling was very well. There were few attacks in the start, but I wanted to save as much energy. It was hot, so I tried to be well-hydrated. Currently, I cannot remember the name of guy who escaped the bunch of riders in the tenth round. He was really fast, so nobody could follow him. The twelfth round came then and I realized I may be in a good position that day. I tried to be in the foreground, when the fourteenth round was beginning. An attack was held in that round, but was quickly neutralized. I watched around and everyone was being exhausted, what gave me some additional motivation, which I focused into my pedals. I actually attacked a round before finish. The adrenaline was powering me in the last lap, the hearth was beating at the top and the finish line was approaching. I turned around and no one was following me. I had a few ten meters of advantage, when the disaster happened. One of the front wheel spokes could not hold the pressure and it suddenly broke. It shocked me, while I was trying to hold those few meters to the finish line. I think, that I even added some more power afterwards. The finish line quickly showed up. I finished second. That was the best race in my life up to then. Juniors were then riding after us on the same track. Simon Špilak, my teammate achieved the first place, which brought our team two podiums.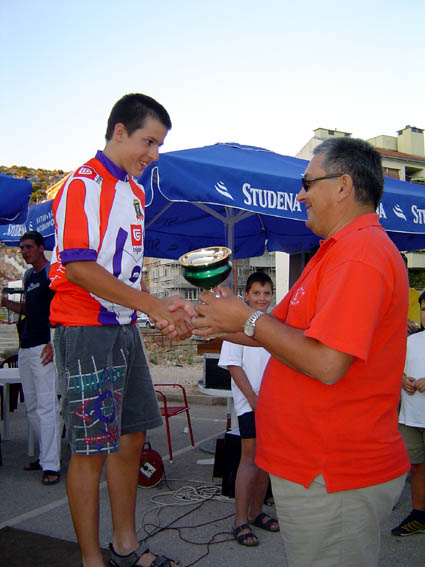 After prize ceremony, I went to have some sleep. The next day we were planning to leave back home. In overall, race was a great experience. I came back home very satisfied and was hardly waiting for the next races to come.